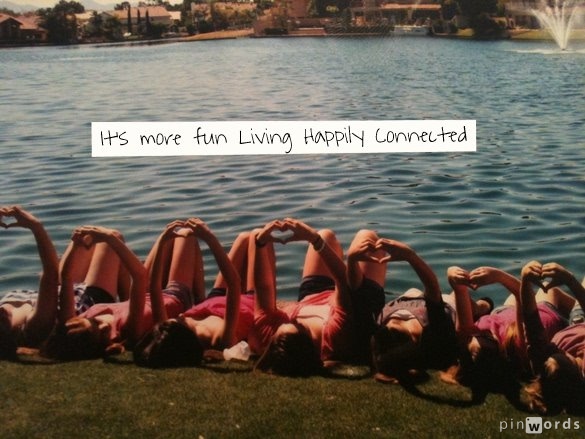 My Inspiration
Cher Knebel, a communications professional for three decades, became interested in the topic of social connection when asked in 2010 to speak on the topic of Preparing for the Holidays and Curbing Holiday Chaos at a large women's group. In preparing for the speech, Cher found a treasure trove of recent happiness research articles as it pertained to connecting with others. Cher's warm and approachable speaking style, along with the entertaining stories she shared, was a hit with the audience members and a new side passion was ignited. She has been researching the topic and sharing her learnings ever since.
Our Mission
At LHC, we are passionate about all things that promote positive social connection. Our mission of this website is to help others by sharing lessons we have learned, research we have read, and providing tools and resources we have created or found for our community.
Some of the topics we discuss or will be discussing on Living Happily Connected include:
Sharing research from Brene Brown on removing shame to improve relationships
What Dan Buettner's research on the Blue Zones says about the importance of social connection to living a longer life
Sharing favorite movie clips (we are big movie buffs) on examples of positive interactions and what we can learn from them
Looking at other cultures around the world to learn what they are doing to stay positively connected with one another
Providing an inside look at everyday people who are living a happily connected life - what are they doing and how does it contribute to living a better life
Meet the LHC Team
We are on a mission to share what we have learned to help others have better connections in their own lives and live their best lives.
Cher Knebel
Cher has been a writer and professional content creator for more than 25 years.
By day, Cher happily works as a Content Strategist for a local financial technology company. In her personal time, she manages Living Happily Connected.com - writing blogs articles, books, and creating tools and resources to help people connect easier in their lives.
Cher's hobbies include reading inspirational books and biographies, gardening, and weekly dates with her husband Brian. They have two adult daughters and live in Southern California.
Brian Knebel
Brian is a contributing writer for Living Happily Connected.com and assists with marketing of the website and related products. He has worked in the technology industry with Fortune 500 companies and start-ups since 2000.
Brian writes on a variety of topics including how other countries celebrate connection, male friendship, and parenting lessons learned from being a proud "girl dad".
A lifelong tennis player, Brian actively competes in regional and national USTA tennis tournaments and local leagues.