Setting up our homes to be more  welcoming and comfortable is what the Danish concept of Hygge is all about. Read on to find out how to "hygge" your home for increased happiness and connection with others. 
The first time I saw the word hygge (pronounced hoo-ga) was years ago as I was browsing through an Ikea catalog. They used the term "hyyge" when referring to that cozy feeling of sitting by the fire and reading a good book or chatting with others - all on your new Ikea couch.
The term comes from Denmark and it describes the feeling of comfort, safety, and wellbeing in one's home, which helps the Danes combat potential sadness from enduring the dark and cold winters that last for months at a time.
What's interesting is that even with being cooped up in their homes much of the year, Denmark consistently ranks high in the annual World Happiness Report. In 2019, their country ranked #2, while the United States dropped down another point to #19. Much has been said of the power of Denmark's hygge concept in boosting happiness levels.
With so much negativity going on in society today– practicing hygge is one small positive way to help counteract the anxiety people (especially those in America) have been feeling since COVID hit our shores back in 2020.  I'll be writing more blog articles in the future on what the Scandinavian countries due to boost connection and happiness.
To get you started, I am sharing eight words that best describe the concept of hygge and how to incorporate this feeling into your home:
Connection. At its core, hygge is about being present and connecting with oneself and others who are in the home with you. It is about feeling good in the present and not regretting yesterday or worrying about tomorrow- actually enjoying the peace and quiet. It's a time to have people over and really be present with them and get to know them better.
We can work on our ability to listen more intently, have more empathy, ask more thoughtful questions and relish the time spent together with less distractions.
Simplicity. For me like many others, having extra clutter around makes me feel stressed. Practicing hygge means removing excess items in your living areas and keeping things simple – let the focus be on comfort and enjoyment in your home. Be sure to remove items that don't spark joy as organizer Marie Kondo often says.
For me, the items that stay in my front room include current books and magazines I am reading, photos of loved ones around me, a scent diffuser, and a few cherished items on my fireplace mantle. This makes it easier for me to focus on what I need to do daily to keep a positive frame of mind.
Comfort. Being comfortable is super important to practicing the art of hygge. This includes wearing soft and warm clothes and socks, having snuggly blankets nearby that feel comforting, wearing your favorite slippers, and keeping fluffy pillows around that you can sink yourself into.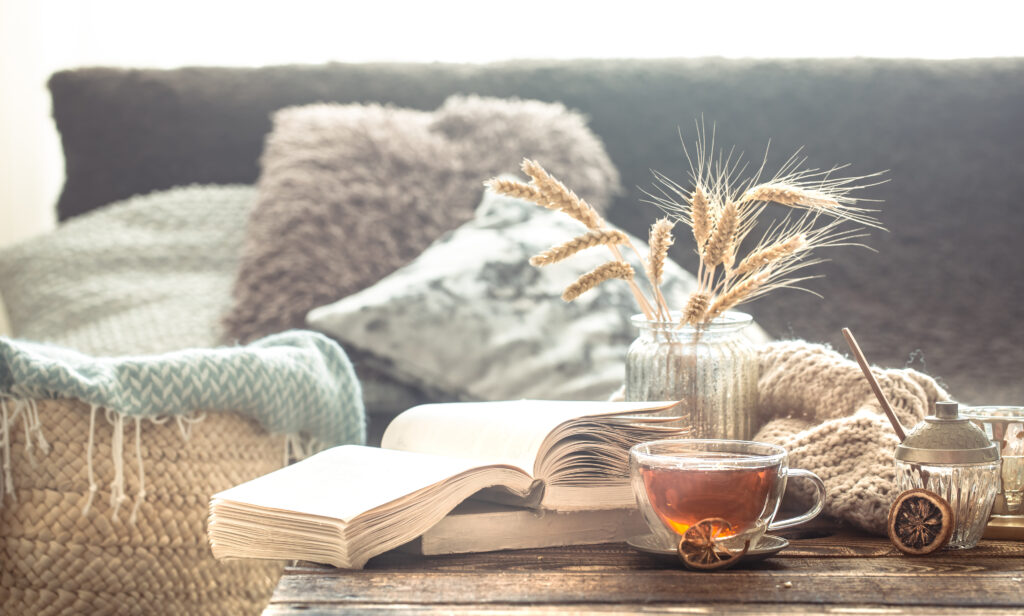 Nature. Hygge is about bringing the natural world into your home which has been shown to boost happiness levels. This includes cut flowers from your garden or purchased at the store, tree branches decoratively placed in a vase, rocks, berries and/or small fountain of running water (I found mine at a local craft store).
Research has shown that looking and taking in the scent of nature has a natural and calming effect.
Ambiance. To feel comforted in one's home means creating the right environment. Whatever size home or space you are in, be sure to light some candles, listen to your favorite music, light some incense - these practices can create a pleasant ambiance in your home.
Screen-free activities. Other than watching a good movie or favorite program on TV, hygge is more about activities that do not involve looking at a screen or device. Typical hygge activities include catching up with guests, playing board games, cards or charades, looking through photos, telling jokes. Create a no-phone or device time in your home while guests are over if you can.
Slow down. Slowing down your pace while being at home is most certainly a hygge practice. Find a good rhythm that feels more natural to you and do things that are comforting. For example, enjoy longer, leisurely meals with family and visitors so you can truly enjoy your meal without feeling the need to rush.
Warmth. Long dark winters in Denmark calls for extra warmth such as a fire in the fireplace, lots of lit candles and extra soft lighting in the house. Try this practice in your own home and see how you feel with the extra lighting – especially those who live in areas with longer winters.
Intrigued by the concept of hygge? If so, check out this ARTICLE on how hygge is becoming more popular in America. Or you can read about it in the Little Book of Hygge: Danish Secrets to Happy Living – you can purchase it through your favorite bookseller.
Check out other blog posts under the category Global Inspiration for more ideas on how others around the world are living happy and connected lives.
---